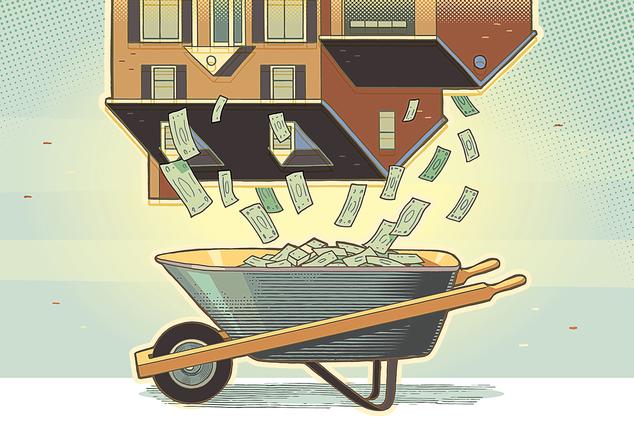 A reverse mortgage is officially known as a Home Equity Conversion Mortgage (HECM). A tool that taps into a home's equity while providing retirement income for homeowners aged 62 years or older with no monthly payments, reverse mortgages are being increasingly common. While most reverse mortgages are federally insured and are a great financial decision for many homeowners, there are still many myths surrounding them that can make it difficult to decide if they are the best choice.
Myth: The bank becomes the home's owner.
Truth: The homeowner retains the title of the home. The lender's business is in making loans and collecting interest on them. During a reverse mortgage, the lender adds a lien to the title as a guarantee that it will eventually get its money back.
Myth: A reverse mortgage and a home equity loan are the same.
Truth: Both a home equity loan and a reverse mortgage are options that tap into the home's equity as collateral, but there are some crucial differences.
First, any homeowner can be approved for a home equity loan. In order to be eligible for a reverse mortgage, the homeowner has to be at least 62 years of age.
In most cases, a reverse mortgage becomes due when the homeowner passes away or moves out of the home for a period of 12 consecutive months. Most home equity loans must be paid monthly over a period of 5 to 10 years.
The closing costs associated with a reverse mortgage are charged upfront but this loan usually has a lower interest that charged over the course of the loan. In contrast, a home equity loan often has no closing costs associated with it but it could have a higher interest rate that's in place as long as the loan is in place.
Myth: Programs such as Medicare, Medicaid and Social Security are affected by a reverse mortgage.
Truth: In most cases, having a reverse mortgage does not affect entitlement programs like Medicare and Social Security that are overseen by the government. Need-based programs like Medicare, however, can be affected by a reverse mortgage. In order to fully understand these implications, it's a good idea to consult with a financial advisor who's qualified to explain how this mortgage could impact the homeowner's eligibility for these programs.
Myth: Monthly mortgage payments are still required with a reverse mortgage.
Truth: The reverse mortgage loan becomes due only when the homeowner dies or when the homeowner moves off the property for 12 or more months so there are no monthly payments due. However, the borrower still must pay for any applicable HOA fees, property taxes, general upkeep of the property and insurance.
Myth: A reverse mortgage must be paid off by the homeowner's heirs.
Truth: Because a reverse mortgage is a non-recourse loan, the lender can only obtain repayment of the funds once the property has been sold. The homeowner and their estate cannot owe more than the value of the home, even if that value is dramatically reduced. Heirs are under no obligation to repay the reverse mortgage though they may do so if they desire and purchase the home for themselves.
While there is no one-size-fits-all answer when it comes to deciding if a reverse mortgage is the right decision for a particular borrower, it could provide the homeowner with the financial ability to age in place. It is, of course, crucial to understand the implications of the loan when it comes due.