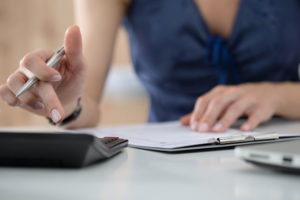 Before you decide to fill out the paperwork for a mortgage you will want to ensure you have all your paperwork together. While it may seem like there is a substantial number of documents needed, they can all be broken down into two simple categories: identity verification, and income verification.
Identity Verification
Identity verification is straightforward, although lenders may vary slightly in how many documents are needed, which forms they will accept, or which they generally prefer. Examples of identity verification include your driver's license, school or work ID card, birth certificate, social security card, or passport. It is wise to have at least three of these on hand.
If you are married, many lenders will also require you to submit a copy of your marriage certification – so have that on hand also. If you are single, of course, this is not something you need to worry about. If you are divorced, bring a copy of the divorce agreement with you just in case.
Income Verification – Working Out of The Home
Income verification for those work traditional jobs outside the home will include your most current tax return information and three months of your most recent paystubs. If you are paid weekly, this would amount to 12 of your most recent paystubs. If you are paid bi-weekly, this would be your six most recent.
It is highly recommended that you bring two years tax return information in the event you find yourself needing to prove an extended history of stability. If you already have this information on hand it can make the process go much quicker.
Other information you will want to have, if it applies to you, are:
Proof of any government-funded payments, like social security income, disability payments, foster care reimbursements, etc.

Proof of child support payments

Proof of any alternative income sources – this might include real estate, commission checks, self-employment income (see below for more information on this), or anything else which contributes to your annual income on any basis
Income Verification – Self Employed
The income verification process for those who are self-employed varies slightly from those working out of the home. For starters, if any of the additional forms of income (as noted in the bulleted list above) apply to you, it is still necessary to gather up those documents.
For self-employed individuals, lenders will want to see a longer history of reliable income that stays within $100 of the same amount each week. If there are changes, those changes should be reflected only in rising income – not declining.
Begin with your last three years of filed taxes. Now, the way to verify your income as others would in paystubs will vary based on what form of self-employment you work in. This might be proved in invoices, verification through a freelance platform, or something else. You will want to produce a minimum of six months proof of these finances – but we highly suggest gathering them for a full year just in case. Finally, you will want to obtain the last years' worth of banking statements.
Remember it is always better to bring too many documents than to not have enough. Overshooting the general minimum can make things much easier should any additional information be requires.